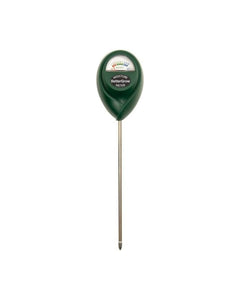 The ideal moisture meter for houseplants, the garden or the allotment.
Accurate & reliable: High quality sensing probe ensures accurate and instant results.

Easy to use: No batteries needed. Large, clear dial. Simply insert into the soil, about 2-4 inches. Wait for a few minutes until the pointer stops swinging to get a stable reading. After use, please wipe the probe clean.
Less damage: Single probe - less damage to the roots.
Indoor & outdoor use: Lightweight and portable, easy to carry around.
Do not use the meter to test water or other liquids; the probe is designed for testing soil only. Do not use it to test very hard soil as this could break the probe. Do not use it to test very dry soil - readings will not be reliable.
To avoid corrosion, do not leave the probe in the soil for more than an hour.
For more accurate readings, wipe the tip of the probe with a rough cloth or paper before each use.