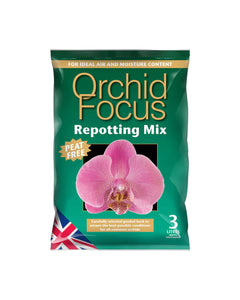 Orchid Focus - Repotting mix - Peat free
Orchid Focus Repotting Mix is designed for best results with all common orchids. It is composed of selected and graded chunky bark for a superb balance of air and moisture content that is essential for orchids. Only use chunky bark to repot an orchid. Peat, soil, small grade bark and pieces of wood will kill an orchid by retaining too much water and suffocating the roots.
Store in a cool, dry place.
Many more uses
This bark can be added as a topper on pots or as a mulch around pines, camelias, azaleas or other ericaceous plants for decoration and to help with the acidity of sol.
Orchid Focus Repotting Mix is made from clean, safe, professional-grade horticultural ingredients, as used by professional growers for many decades, Sustainably sourced.